With a Bold New Style and the Most Advanced Engine Ever, the 7th Generation Mustang Aims to Thrill
September 20, 2022 | East Brookfield, MA
Ford designers have been hard-at-work behind the scenes in crafting an all-new 7th generation Mustang that draws on its iconic heritage and surges forward into the future with extreme performance enhancements and technological advancements that make it the most exciting, fun-to-drive sports coupe yet. Available in EcoBoost and GT models, there is a Mustang for cruisers and racers alike, with styling to match each profile and ground-breaking improvements to the interior space that echo the cockpit of the latest fighter jets.
Timeless Design That's Both Classic and Cutting Edge
Mustang's roofline allows for driver entry and exit without having to remove your helmet on the track, and the tail features iconic signature tri-bar lights and a redesigned diffuser for improved aerodynamic balance. The convertible model offers maximum open-air freedom with a one-touch activated fully-lined, insulated fabric roof. The compact design of the soft-top combined with the independent rear suspension give Mustang segment-leading trunk space that can accommodate up to two golf bags.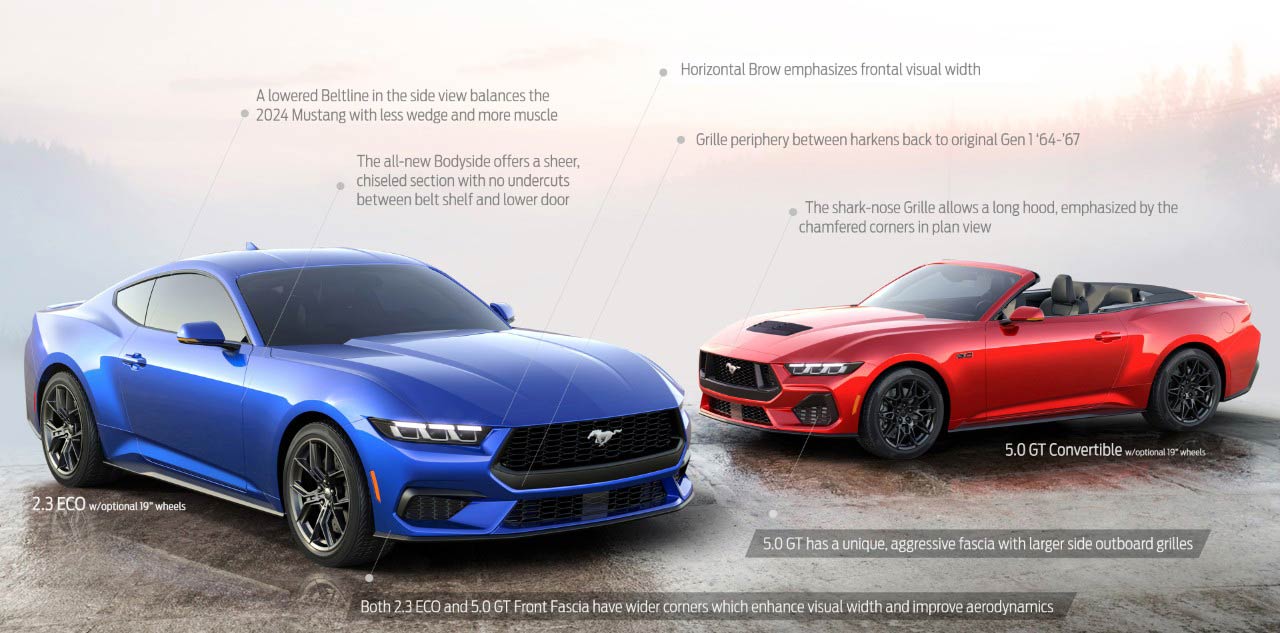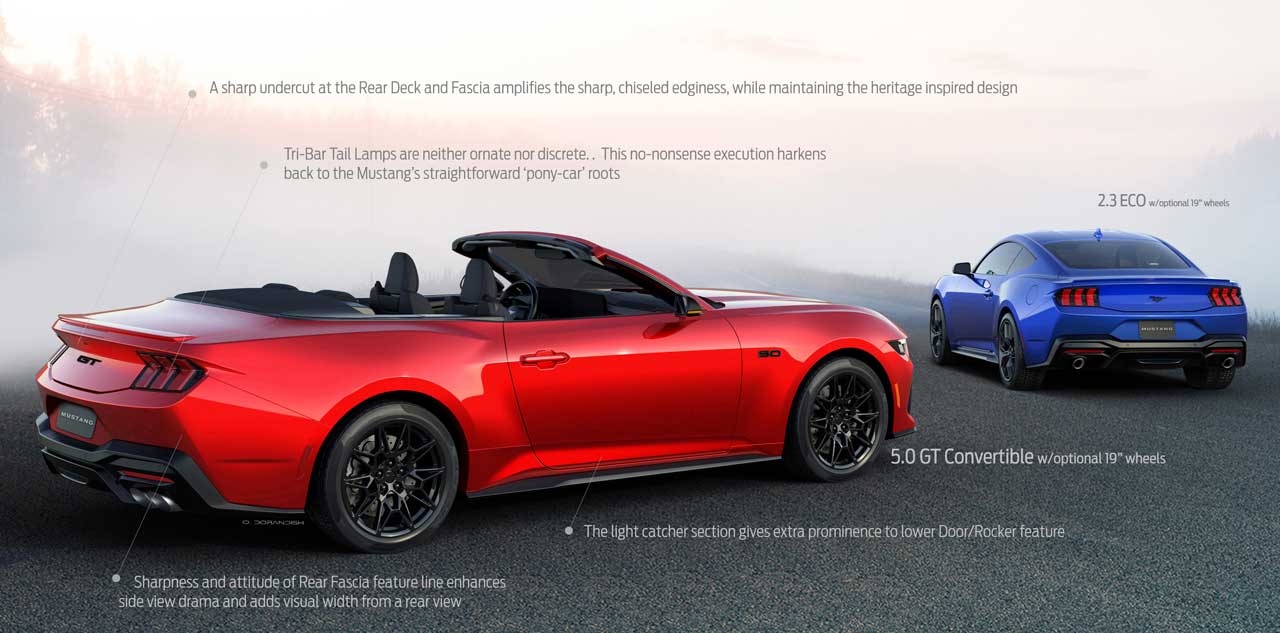 "Both the EcoBoost and Mustang GT have unique styling cues that deliver on their promise of Mustang Performance," said Christopher Walter, Ford Mustang design manager. "The new Mustang is more chiseled and edgier, leaning into Mustang's classic brawniness and timelessness."
The all-new Mustang launches with 11 exterior color options including two new shades, Vapor Blue and Yellow Splash, complemented by new stripe colors and designs. Customers also can choose from three Brembo brake caliper color options: Black, Red and Grabber Blue, plus an all-new lineup of alloy wheels, ranging from 17-inch standard size on base models to 19-inch for GT with optional 20-inch alloy wheels.
New for the 2024 model year is the Mustang Design Series, providing further customization options straight from the factory. The Bronze Design Series Appearance Package adds Sinister Bronze alloy wheels with bronze badges, and is available on both EcoBoost and GT models, with or without the optional Performance Pack.
Most Advanced Mustang Engines Ever
The all-new Mustang delivers next-level driving excitement that pushes the boundaries of engine performance. The GT model now comes powered by a 4th-generation 5.0-liter Coyote V8 engine that is set to deliver the most naturally aspirated horsepower of any Mustang GT thanks to an innovative dual air intake box and dual-throttle body design, that helps minimize induction loss by enabling higher air flow rates. The GT comes standard with a six-speed manual transmission with an optional advanced 10-speed automatic transmission that adapts its shift patterns according the selected drive mode. Drivers looking for Mustang's fun-to-drive feeling with fuel efficiency benefits can opt for the EcoBoost model, powered by an all-new, four-cylinder turbocharged 2.3-liter powertrain.
"This is the most athletic and confidence-inspiring Mustang EcoBoost and GT to drive yet," said Ed Krenz, Ford Mustang chief nameplate engineer. "Whether driving an automatic or manual transmission, thanks to drive modes combined with fine-tuned digital engine, suspension and steering controls, we're now able to give drivers peak performance everywhere, from their favorite roads to their local track."
Revolutionary Fighter Jet Inspired Interior
Upon entering the cockpit of the new Mustang and into the comfortably contoured seats, your attention is drawn to two flowing curved digital displays that combine to show you a customized, configurable array of vital stats and drive mode graphics to fully immerse you in the driving experience. The 12.4-inch digital instrument cluster can also be customized to display various animated designs and drive-mode dependent visuals. Based on the same Unreal Engine 3D creation tool used in modern video games, when choosing personalized drive mode settings, the car's current setup is displayed on the center stack as real-time graphical renderings. Settings can be adjusted by simply swiping the graphic to rotate the car virtually in a true gamified style
"We knew what customers wanted and designed the most digital Mustang ever while retaining the all-important driver-focused cockpit," said Ricardo Garcia, Ford interior design manager. "Removing some of these physical buttons, such as radio and climate control, and integrating them into a digital display was popular in research with Millennials, Gen-Z and traditional Mustang drivers alike."
The default instrument gauge setting in past Mustangs sported traditional, cool blue and light grey tones that now feature an ultra-modern, copper appearance theme also shared with Mustang Mach-E. From there, almost everything in the displays - and the ambient interior lighting - can be configured to selected tones, while instrument clusters adapt to drive mode selection. When choosing personalized drive mode settings, the car's current setup is displayed on the center stack as real-time graphical renderings. Settings can be adjusted by simply swiping the graphic to rotate the car virtually in true gamified style. This digital instrument cluster can be optionally configured to flow seamlessly into a 13.2-inch SYNC® 4 center stack behind a single piece of integrated glass that's angled toward the driver.
Lamoureux Ford looks forward to the arrival of the new 2024 Ford Mustang in our showroom in the summer of 2023. Reach out to us to find out more about this exciting next generation release and be among the first to drive one!